About Us
WELCOME TO AL RAHMA PHARMACY GROUP
Al Rahma Pharmacy Group was Established in 1989, with Dar Al Dawa Pharmacy (Branch ) in 2000, Centarl purchasing store in 2001, Al Bayan Pharmacy in 2010, Al Rahma Medical Equipment in 2010, by Mr.Dawood Salman Shabbani & his Son Mr Salman Dawood Shabbani, Mr.Dawood a Very highly Appreciated and Experienced Professionals.
All Pharmacy's are located in distinct locations in Bahrain and they are one of the leading Pharmacies in Kingdom of Bahrain, with a highly experience pharmacist & Staff and providing high quality and the best services to its customers.
Each And Every Academic year there is 30 – 35% of more business improvement which is a very good achievement in present Bahrain competitive Market.
PREVIEW
In our activities, we are trying our level best to satisfy the needs of our valuable customers and all of us at Al Rahma Group of Pharmacies are dedicated to serve the Medical and Pharmaceutical fields of Bahrain Market.
We thank those companies which have supported us so well over many years and extend a sincere welcome to others who are interested in business relation in future.
MISSION
In association with our partners ,we bring the Modern Innovations of Pharmaceutical & Medical healthcare Industry closer to the Market of Bahrain, thereby Improving quality of life of Bahrain's community.
VISION
Maintain our lead & Reputation, continue to excel in performance by adhering to our core values; customer satisfaction, satisfaction of our existing partners, ethical business policies and building new partnerships.
STAFF
We are built up with a staff of 35 plus. Our staff is very Sincere & Hardworking
| Category | Number of Persons |
| --- | --- |
| Pharmacists | 14 |
| Medical Representatives | 2 |
| Cashiers | 12 |
| Store in charge | 1 |
| Store keepers | 2 |
| Purchaser | 1 |
| Accountants | 2 |
| Drivers | 3 |
| Vehicles (for Sales & Marketing) | 3 |
| Vehicles (for Delivery) | 2 |
AGENCIES
We are the Sole Agents for the below mentioned:
Life Plan Products Ltd, U.K
Bio Extracts (PVT) Ltd, Srilanka
London Health Care Ltd, London
General Health Care Ltd, England
Shifa Plaster, Syria
Dili International SRL, Italy
3A Health Care Ltd, Italy
CEX International, South Africa
Dolphin India

Dar Al Dawa Pharmacy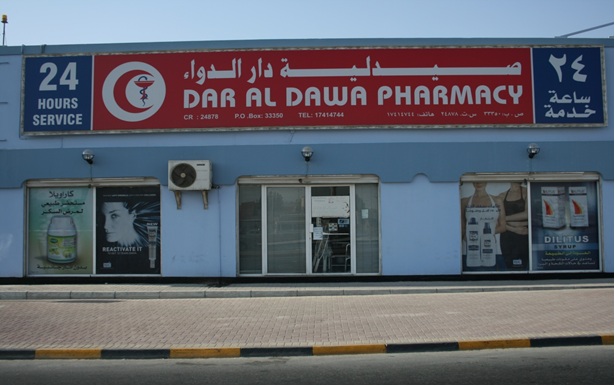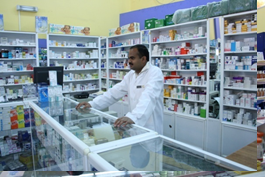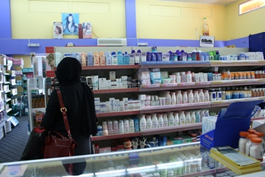 CONTACTS
(1) Al Rahma Group
Head office
P.O.Box 33350
Isa Town
Kingdom of Bahrain.
Tel No: (+973) 17687117
Fax NO: (+973) 17682935
www.alrahma-pharmacy.com
Email: info@alrahma-pharmacy.com
alrahmapharmacy@gmail.com
(2) Al Rahma Pharmacy (Branch)
Isa Town
Kingdom of Bahrain
Tel No: (+973) 17687117
Fax NO: (+973) 17682935
www.alrahma-pharmacy.com
Email: alrahmapharmacy@gmail.com
(3) Al Rahma Medical Equipment
Boori
Hamad Town
Kingdom of Bahrain
Tel No: (+973) 17300075
Fax NO: (+973) 17300014
www.alrahma-pharmacy.com
Email: dadpharmacy@gmail.com
(4) Dar Al Dawa Pharmacy (Branch)
Hamad Town
Kingdom of Bahrain
Tel No: (+973) 17414799
Fax NO: (+973) 17412275
www.alrahma-pharmacy.com
Email: dadpharmacy@gmail.com
(5) Al Rahma Store
Boori
Hamad Town
Kingdom of Bahrain
Tel No: (+973) 17300075
Fax NO: (+973) 17300014
www.alrahma-pharmacy.com
Email: dadpharmacy@gmail.com
(6) Al Bayan Pharmacy (Branch)
Jid Ali
Isa Town
Kingdom of Bahrain
Tel No: (+973) 17300025
Fax NO: (+973) 17300015
www.alrahma-pharmacy.com
Email: albayanpharmacy@gmail.com